Bring on the life of the party! Enneagram 7's are a blast!
*Research from the Enneagram Institute
"Sevens are extroverted, optimistic, versatile, and spontaneous. Playful, high-spirited, and practical, they can also misapply their many talents, becoming over-extended, scattered, and undisciplined. They constantly seek new and exciting experiences, but can become distracted and exhausted by staying on the go. They typically have problems with impatience and impulsiveness. At their Best: they focus their talents on worthwhile goals, becoming appreciative, joyous, and satisfied."*
"Basic Fear: Of being deprived and in pain"*
"Basic Desire: To be satisfied and content—to have their needs fulfilled"*
"Key Motivations: Want to maintain their freedom and happiness, to avoid missing out on worthwhile experiences, to keep themselves excited and occupied, to avoid and discharge pain."*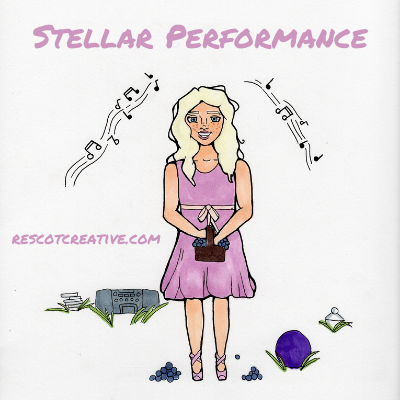 Meet Stella Pearson: Enneagram 7 Musician
(Pearson Sister #5)
Check out Stella's Pinterest board!
Favorites:
Color: Pink
Instrument: Singer
Music: Pop
Drink: Shirley Temple
Food: Cupcakes
Musician: Taylor Swift
Art form: Dance
Season: Summer
Sense: Touch
Love Language: Physical Touch
Stella's Book Introduction
Victoria's eyes drifted from the page to Adrienne, who stood in the entryway, accompanied by their youngest sister.
"What do you think of my dance costume?" Twelve-year-old Stella twirled around in a white-bodiced leotard with pink sequins, a fluffy tutu, and ballet slippers. Her bright blonde hair was pinned back in a thick bun. "Adrienne sewed the finishing touches for me."
Victoria put down her pencil. "Stunning."
Stella danced on tiptoe to the piano and spread her tutu over the bench.
For the conclusion of the Tchaikovsky medley, Stella tiptoed on stage to perform "Dance of the Sugarplum Fairy." She moved with such grace and confidence, Victoria couldn't help but admire her sister's talent.
Victoria guided the hippo to its place backstage as Stella sang the opening to "I Want a Hippopotamus for Christmas."
Halfway through the song, Victoria gave the hippo a slight shove onto the stage. The audience roared with laughter. Stella grabbed hold of the hippo face and planted a huge smooch on its gargantuan nose.