Research from the Enneagram Institue
Threes are self-assured, attractive, and charming. Ambitious, competent, and energetic, they can also be status-conscious and highly driven for advancement. They are diplomatic and poised, but can also be overly concerned with their image and what others think of them. They typically have problems with workaholism and competitiveness. At their Best: self-accepting, authentic, everything they seem to be—role models who inspire others.
Basic Fear: Of being worthless
Basic Desire: To feel valuable and worthwhile
Enneagram Three with a Two-Wing: "The Charmer"
Enneagram Three with a Four-Wing: "The Professional"
Key Motivations: Want to be affirmed, to distinguish themselves from others, to have attention, to be admired, and to impress others.
Meet Adrienne Pearson: Enneagram 4 Musician
Check out Jerry's Pinterest board!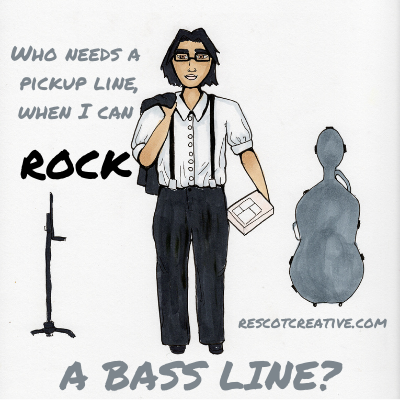 Favorites:
Color: Gray
Instrument: Cello
Music: Classical, punk
Drink: espresso
Food: Sichuan Boiled Beef
Musician: Borodin
Jerry's Book Introduction
After the tuning subsided, she took her seat in the semicircle of elite musicians who surrounded the conductor's podium. Jerry, sitting opposite her, gave a quick thumbs up. Warmth spread to her cheeks. Was it the lights? Or something more?
"You've got this," he mouthed.
"Thanks," she mouthed back. Her knotted muscles began to unwind. He often had this effect on her. In contrast to her nerves, he always possessed a relaxed air at concerts. Handsome in his tux, black hair combed back, he resembled a younger version of the renowned cellist Yo-Yo Ma. Victoria met the dark eyes that sparkled behind large-rimmed glasses.
"What about you?" Matt turned to Jerry. "What do you play?"
Jerry jolted back, surprised the guy had taken any interest in him. He tapped his large case. "Cello."
"Can you knock out a decent bass line?" Matt asked.
"Sure." Jerry shrugged.
Matt clapped him on the back. "Then why don't you join us, too?"
"Couldn't hurt to try." Jerry peeled himself off the couch to follow the guitarist. Maybe he'd score a couple extra cool points playing with the guy.
The trio climbed onto the stage, instruments in hand. Matt's voice boomed into the microphone. "Ladies and gents, a couple of guests will join me for my next song. On the fiddle, we have…" He handed the mic to Adrienne.
She cleared her throat. "Adrienne Pearson."
Jerry winced. Viola, not fiddle.
"And on bass…" He held the mic to Jerry.
Cello, not bass. But he could play the part. Imitate the double bass players he'd watched in jazz combos. He leaned forward. "Jerry Chang."
When Matt began to croon, Jerry plucked the strings of his cello with his forefinger. Maybe try a slap bass move. As he clapped his instrument in rhythm, the pulse of the music breathed new life into him, a sense of freedom. Although he'd never played the tune before, it turned out easy to pick up. Basic harmonic progression.
His gaze moved to Victoria, who smiled and waved. Too bad she wanted to move to New York for graduate school next year. And he'd be off to medical school wherever he could get in. His heart plummeted. Four more years of grueling education, not to mention residency after that. But Mom and Dad insisted it was the best path.
"Music's not a good career for you," his mom had lectured. "We music professors get paid horribly. Be a radiologist like your father. You'll make good money."
If that's what she believed, why had she insisted he practice three hours every day growing up, just to rip music away from him?