This spring, several of my students have graduated from their Suzuki Books. They've put their quarantine time to good use by practicing their instruments.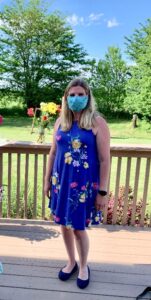 During the normal academic year, students become bogged down by the demands of school and other extra curricular activities, and often their music practice suffers. However, during this time of isolation, many of my students have prioritized music and worked hard to graduate from their books.
After so much dedication and practice, I wanted my students to have the opportunity to share their music with others, which they have done in a number of creative ways. I've allowed students and parents to choose the performance setting that works best for them, and I've been impressed with their results and creativity!
Facebook Live
Student 1 chose to perform his Book 2 recital on Facebook live. Literally the son of a rock star, this student thrives on large audiences and is extremely motivated to practice by large numbers of viewers. Audience members typed cheers and positive comments throughout the performance, reacting to each song individually, as well as the performance as a whole.
Zoom
Student 2 preferred to see her audience members on the screen, like Grandparents and friends, so she chose Zoom for her Book 1 recital. Her Dad accompanied her on viola and guitar, which provided a nice chamber music feel. At the end, she chatted with everyone before joining her siblings for popsicles.
Outdoor Recital
As our community began to open up, Student 3 chose to perform her Book 3 recital for a small group of family and friends outside in her backyard. She didn't like the thought of playing for people on a screen, but loved the idea of baking cupcakes for her grandparents. Fortunately, I was able to accompany her on my violin in a safe, socially distant environment. The experience also provided her with the opportunity to learn how to navigate an outdoor gig—bugs, wind, and all! I brought plexiglass to keep our music from blowing away.
YouTube
Student 4 is the son of my daughter's piano teacher, so he was able to play his piece as a guest performer for his mom's YouTube recital. Each student sent a video recording of his/her piece to the teacher, who compiled them into a private, password-protected playlist. She shared the videos with students' families, along with her own opening and closing remarks.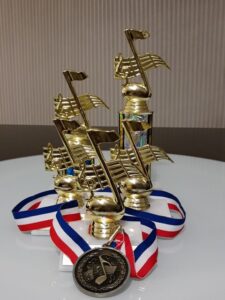 I've been thrilled to see how music-making continues even during this time of global insecurity. Now more than ever, students need an outlet for their voices to be heard.
I look forward to two more student Book 1 Recitals at the end of this month!
P. S. I give students a trophy at the end of each early Suzuki Book to reward their success. I order music sport figure trophies from awardsforanything.com, buying a taller one for each book, so that they can visually see their progress. I purchase the Music Quad Star Resin for the Twinkle Graduation.
Trophies: Twinkle Graduation, Book 1, Book 2, Book 3, Book 4