"Chamber Music— a conversation between friends." –Catherine Drinker Bowen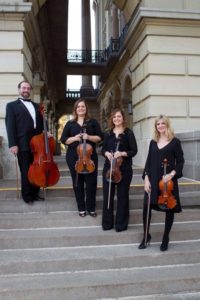 One of the advantages to being a professional violinist is its variety! I love to learn new material, explore multiple genres, and uncover old gems from centuries past. I enjoy playing in a variety of capacities, whether as a soloist or as a member of small ensembles.
I have especially enjoyed immersing myself in the world of chamber music. It's such a fun medium, as it provides an intimate setting in which performers can engage in "musical conversations."
A few years ago, I had the chance to perform a chamber concert with a colleague of mine that featured several violin and cello duets. We performed music by the lesser-known Russian composer Reinhold Glière (1874-1956). In his work Huit Morceaux pour violon et violoncelle, Op. 39, the first movement reflects the provocative harmonies of the turn of the twentieth century. The cello sings the doleful melody while the violin plays an accompanimental role. However, the second movement stands in sharp contrast to the first, as this "Gavotte" sounds much more Baroque in style. The third movement, "Berceuse" is a sweet lullaby, evoking a soft quality by the instrumentalists' use of mutes. The "Canzonetta" picks up the tempo, with the violin carrying the melody over the cellist's broken arpeggios.
I asked my colleagues what were some of their favorite chamber works. They mentioned Brahm's Horn Trio in Eb Major, Op. 40 (1865), a fun work for violin, piano, and natural horn, as well as Shostakovich's famous String Quartet No. 8 (1960), which secretly depicted his struggle against the Communist Party. Shubert's famous quartet Death and the Maiden (1824) shows the composer's struggle against death. I've performed many of these over the course of my musical career, and I wholeheartedly agree. I love that composers use chamber music to communicate their own life struggles and experiences with the performers. We, in turn, have the privilege of helping keep their legacies alive.
Stay tuned for more chamber music featuring Beethoven for his 250th birthday!