I had a wonderful time speaking with author Esther Pannebaker about the role music has played in her life. She particularly emphasized the importance of the pauses in music, which can make the difference between a mediocre performance and a stellar, emotionally satisfying experience.
The Divine Fermata
f r m d /fermata
noun MUSIC
a pause of unspecified length on a note or rest.
to stop, confirm, to make firm.
"In music, a dot with an eyebrow over it is called a fermata. At its simplest, the fermata (or hold) is a sign that indicates the prolonging of either a sound or a silence. It is drawn as a half-circle with a dot centered along its bottom and is a musical notation placed above a note that should be prolonged beyond the normal duration that its note value would indicate. Exactly how much longer it is held is up to the discretion of the performer or conductor.

I (Esther Pannebaker) first learned about this notation while taking piano lessons as a kid. A pause didn't mean much to me then, but I learned its value as my musical career grew.
Our community college performed the full three-hour oratorio of George Frederic Handel's Messiah every Christmas. Each year, members of the community were given opportunities to audition for the college chorale. I made the cut and felt privileged to be included for several years with the Augustana Community Choir Christmas performance. The massive rush of emotions as the pipe organ, harpsichord, violins, and instrumental movements
played was indescribable.
While our conductor remained in full control of every individual voice and every single instrument, we had to keep our eyes on him. The timing was controlled by the man with the baton. At any point, he could hold a note for two or three more beats if he chose. The fermata became the tipping point of emotion, specifically designed for dramatic effect. For the crescendo to build, we had to learn to play the pause. Merit was found in the wait." (Pannebaker, Esther, No.Thing, High Bridge Books, 2021, p. 41-42)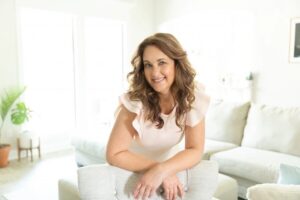 Esther Pannebaker has been a supportive pastor's wife for 16 years, while mothering four beautiful children; three of which are grown adults and one teenager left in the nest. Esther has learned and now understands what it means to steward and shepherd the hearts of others well. She not only loves her family, friends, neighbors, and community, but she understands what makes people thrive.
Esther hopes after reading No.Thing or hearing her speak, you'll walk away feeling refreshed, refit, and rejuvenated to face that seemingly unmovable thing with the same unstoppable spirit.