Like many of my fellow music teachers, I'm looking for new ways to connect with students and help them connect with each other. When I found Victoria Kimble's new Young Adult release The Main Dish with a violin featured on the front, I had to check it out.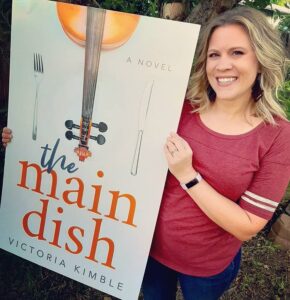 As it turns out, Victoria must be my long-lost twin, considering we share a love of music, fiction, faith, and sisters. (And apparently an adolescent fondness for cute cellists.) The main character in my novel is even named Victoria!
This amazing author draws in her readers with her fabulous descriptions that incorporate all the senses, especially taste, in this delicious teen drama. It's the perfect read for fans of both music and foodie fiction.
Several of my pre-teen violin students claimed The Main Dish was the best book they'd ever read, largely because of Victoria's meticulous attention to detail, as well as the excitement she creates with a reality TV cooking show.
To top it all off, Victoria joined the girls and me via Zoom for our book club! She answered all of their questions about writing, the characters, and music. They loved getting to talk with a real live author, and said it was a very cool experience.
I'd highly recommend The Main Dish for other music teachers looking for a fun book club recommendation for their studios! Check out Victoria's author website for more information about the book, as well as The Choir Girls series.
Here's the blurb:
Which is stronger, the bond of sisters or the pull of fame? The Main Dish addresses what happens when the success of someone eclipses one's own success.
Scarlet Williams is a sixteen-year-old violin prodigy on the verge of a major breakthrough, both in her musical career and in her social life. She wins a chair in the Summerset Festival orchestra and doesn't hesitate to tell the world. Even her crush, Finn O'Neal, finds out. But then her younger sister Sadie gets cast in Young Gourmet, a nationally televised kids cooking competition, and Scarlet is forced to give up her chair to go with her family for the taping. Scarlet moves from the spotlight to the shadows and must find a way to keep the attention of her new friends.
Victoria Kimble is a wife, a mom to three girls, a full-fledged homebody, a so-so housekeeper, a mediocre musician and has dreamed of writing her whole life. She lives at the foot of the Rockies in Littleton, Colorado and she will never take that for granted. She has spent most of her life living in Colorado, with a brief six-year hiatus to live in Nebraska to attend college and get married. She is mostly a stay-at-home mom, but dabbles in a variety of other odd jobs, such as being the nursery director at church, doing admin work and crocheting beard hats in the winter. She loves meat and potatoes, superhero TV shows and movies, and when the weather stays between 70 and 80 degrees. She could probably love the beach if she ever spent any time there.
Victoria spent her childhood reading and making friends with the characters in her favorite books. She never grew out of that. After many years of wondering, she decided it was time to write the stories she had always dreamed of writing. She hopes that her stories model an active Christian lifestyle, while feeding the insatiable sense of wonder and adventure that everyone has deep inside.
Other wonderful music books for younger students include those by Vicky Weber (see previous post.) I also like the The Story Orchestra Books, which I will feature in an upcoming post! A great one for violin positions is Vio's Violin by Kenesha Ryce.
*Affiliate links help me continue to make content available for you!