Concerts and auditions are coming back, and I have the perfect solution to get you, or your students, in peak performance state!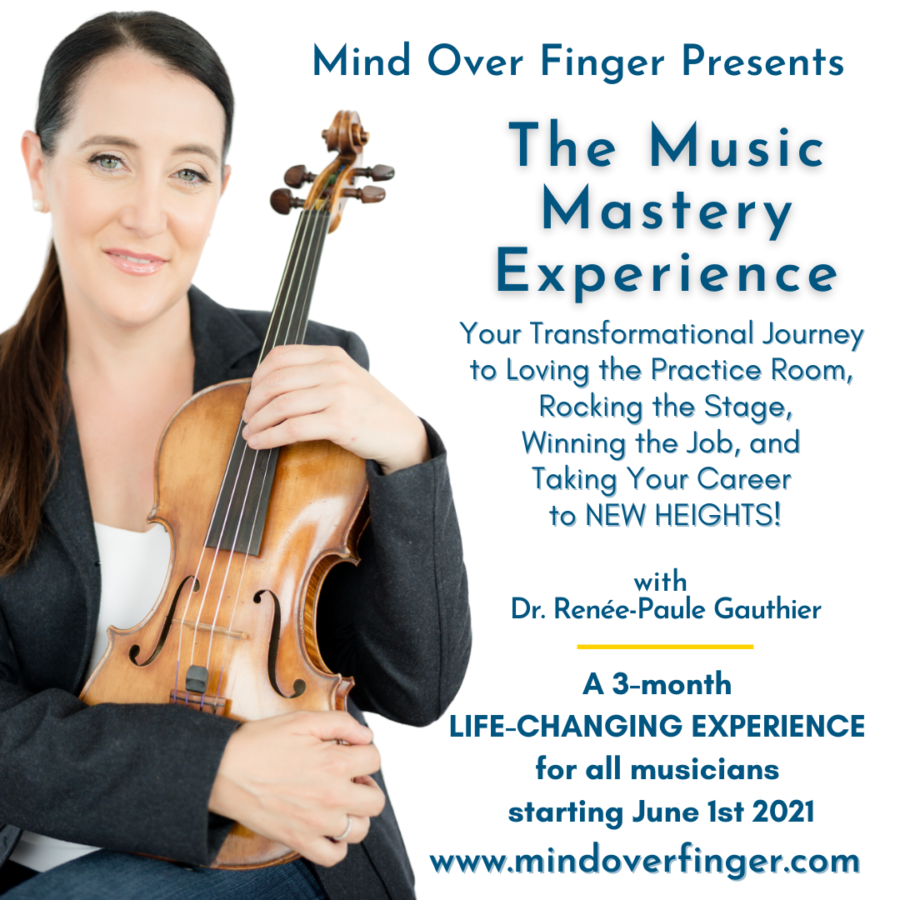 This past week, I had the privilege of chatting with one of my wonderful colleagues and fellow Francophile violinist, Dr. Renée-Paule Gauthier. I have loved listening to her delightful Mind over Finger podcast for the past year, and have attended several practice workshops in her Facebook Group. She is an incredible performer, engaging host, and encouraging teacher. If you haven't yet listened to her show, definitely check it out!
I am honored to become part of her affiliate team, as I believe her emphasis on developing the whole person: emotional, physical, and psychological, in addition to the technical aspects of the craft, is essential to our success as musicians. I only accept affiliate status to programs I believe are of excellent quality, and Renée's technical expertise combined with her compassion make her program the perfect choice for those looking to invest in their career as a performer or music teacher.
This summer, she is teaching the course :
THE MUSIC MASTERY EXPERIENCE – A TRANSFORMATIONAL JOURNEY TO LOVING THE PRACTICE ROOM, ROCKING THE STAGE, WINNING THE JOB, AND TAKING YOUR CAREER TO NEW HEIGHTS.
The Music Mastery Experience is a 3-month group coaching program where participants discover how to implement mindful & effective practice and performance preparation techniques, make them habits, and get results!
The program is designed for musicians and teachers -all levels and all instruments included- who wish to elevate their playing and their performance, and/or acquire systems and methods to help their students accomplish this.
Renée's desire is to turn musical goals into reality:
Getting more results in the practice room and using each minute to the fullest
Feeling that practice is MEANINGFUL, ENJOYABLE, AND IMPACTFUL
Learning repertoire faster and better
Knowing exactly what works when it comes to performance preparation
Being rid of the bad habits that sabotage progress in the practice room
Having the mindsets that can boost practice into hyper-drive
Knowing the effective performance prep strategies to get into optimal performance state
Walking on stage feeling confident
Feeling free and at ease while performing
Walking away having achieved your goals
If you are interested in this course, you can book a call with Renée by visiting www.mindoverfinger.com/mme .
If you mention me as a referral, Renée will offer you a scholarship, since I am an affiliate partner.
Whether or not you are able to join her course this summer, you should definitely listen to her FREE weekly podcast for fabulous practice tips and motivation! I am so grateful for Renée and all she has done for the music community, especially during this difficult past year. Merci!