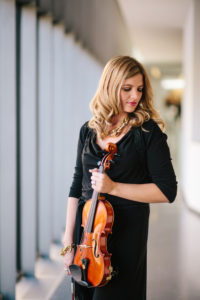 Ashley Rescot is a professional violinist, educator, writer, and Fulbright Scholar. She has run her own violin studio for nearly a decade. An aficionado of music, pedagogy, family, faith, and language, she writes about her life as a musician. Stay tuned for her music novel!
Bachelor of Music in Violin Performance
Master of Arts in French Literature
At the age of two, Ashley began violin under her mother's tutelage. Family performances with her mom, four sisters, aunts, cousins, and grandmother comprise her fondest childhood memories.
Her senior year in high school, Ashley served as concertmaster of her youth symphony in Kansas and won the youth talent concerto competition to solo with the orchestra. Afterward, she moved to Texas for college where she received a Bachelor of Music in Violin Performance and minors in French and English.
In addition to violin, Ashley developed a passion for French, especially French music. She spent a year abroad in Paris, France as a Fulbright scholar where she taught English and collaborated with local musicians. The experience opened her eyes to another culture which influenced her perspective as a creative artist and educator.
She returned to the Midwest to teach collegiate French language courses and earn a Master of Arts in French literature. After graduation, she moved to the greater Chicago area where she taught French at a regional university and grew her private violin studio. She was a participant on a reading committee and voted in the Prix Roblès, an award for first-time French novelists. Ashley enjoyed attending the award ceremony in Blois, France in 2013 where she met the winning author who had written a music novel set in Europe during World War II.
Today, Ashley loves to work with her students, perform with family and friends, and write about all things music and French. She especially enjoys spending time with her husband and two children. She is a member of her family group Uptown Violins, the Blackwater String Ensemble, the SSA music teachers' society, the ACFW writers' association, and is an active musician at her church. As a veteran performer and pedagogue, she strives to pass on her love of music and language to the next generation.
Tired of boring bios? Check out Ashley's in short story form!