Join the Rescot Creative Strings Studio for our Summer Music Theory Class! This year we will focus on many of the nuts and bolts of our playing, including scales and music theory.
Who?
Musicians going into 5th-9th Grade in the 2022-2023 School Year
I am also opening the camp up to older musical siblings of my violin studio who would like to practice music theory.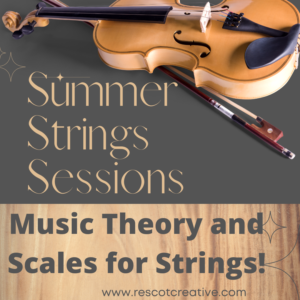 What does it include?
-Four 1.5-hour group sessions
-Access to my online practice scales and theory tutorials
Cost for Full Camp: $165-Jr. High (5-6:30)
We could also add a dinner component if people want, either a pizza money fund, or parents rotate who brings food/drinks, etc. or students bring a box dinner or parents pick up to go meals and bring them at 6:30? Let me know which option you prefer.
When:
4 weeknights, from 5-6:30 pm
Monday, June 20 (Prepare G, D, A, E Major Scales)
Monday, June 27 (Prepare C, F, Bb, Eb Major Scales)
Tuesday, July 19 (Prepare a, d, g, c# minor scales)
Tuesday, August 9 (Prepare e, c, f#, b minor scales)
(You can prepare additional scales as well, but start with these first and work your way through more sharps/flats)
Materials:
Music Flashcards: All campers
Music Theory: Workbook
Staff Wars app: For Apple, For Android
Motivation
Music Practice Makeover