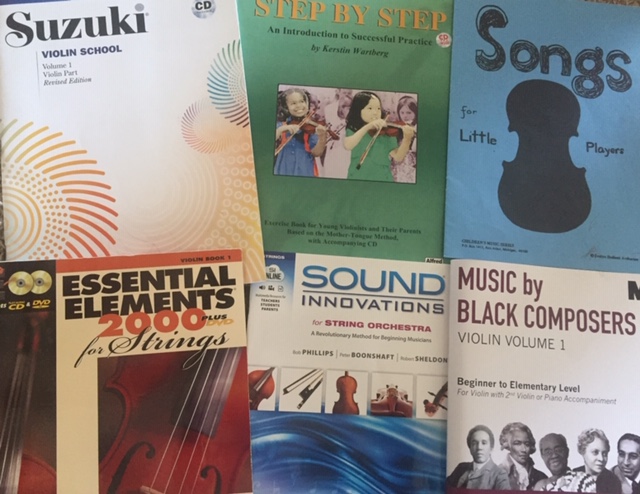 Check out my favorite beginning violin books! My primary method is the Suzuki Method, which emphasizes aural training and imitates language learning. In graduate school, I took a couple of linguistics classes on Second Language Acquisition, which further reminded me of Suzuki's genius to combine these principles with music education.
I'm especially excited about Hilary Hahn's new Suzuki recordings released this year! Available at Sharmusic.com: Suzuki Violin Volume 1 and CD, Volume 2 , Volume 3
In addition to the Suzuki books, I like the Step by Step series which further breaks down the songs into manageable bites for students.
When students begin to work on sight-reading, I like to use at least one of the following:
Songs for Little Players by Avsharian: Great sight-reading for young players, and includes violin flashcards to memorize both the notes and where they are played on the violin. Available from Sharmusic.com.
The next two series are also popular in beginning orchestra programs:
Sound Innovations
Essential Elements for Strings
After taking Chenoa Alamu's class on The History of Black Composers, I purchased Music by Black Composers: Violin Vol. 1, arranged by Rachel Barton Pine from Sharmusic.com.
Método de Iniciacion, Vol. 1: https://amzn.to/30kc5FZ
Método de Iniciacion, Vol. 2: https://amzn.to/2PAkvqs
Méthode Élémentaire du Violon, Vol. 1
Méthode Élémentaire du Violon, Vol. 2
*Amazon affiliate links help me continue to make this content available to you. I am not yet a Shar affiliate, but I highly recommend their products for strings!