After a long labor, I'm having a book baby! After years of waiting, multiple drafts, revisions, tears, and several days of nearly giving up, my first novel is finally here! And thanks to you all, it's already the #1 New Release in the Teen & Young Adult Music Fiction category.
If you have enjoyed my work so far and you want to help share our love of music to others, please help me spread the word. Purchase your paperback today and share with friends to help it reach bestseller status! (If Amazon sees that a book has sold a lot of copies in one day, it will continue to recommend the book to others for weeks!)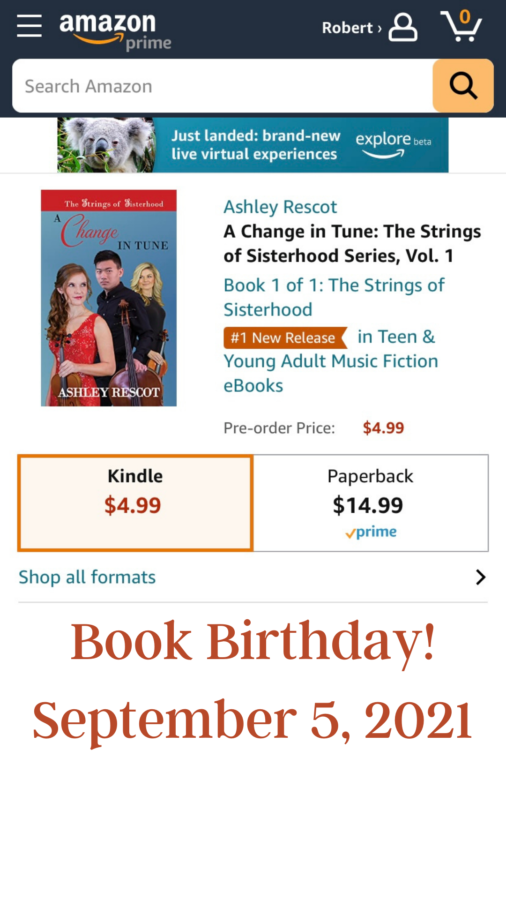 Another of the best ways to help others find this book is by writing an honest review on Amazon or Goodreads. Even if you don't have time to read it yourself, give a copy to a music student in your life, and ask them what they thought of the book. Your review could read something like the following:
"I gave this book to my daughter who studies violin, and she absolutely loved it!" or "This book reminded me of my college music days." or "This book would be a good fit for music students." etc. Reviews and word of mouth are the best way to help an author succeed.
Thanks so much for all your help along this journey. I couldn't have done it without you!
Coming to more countries, retailers, and in more formats soon! As always, stay tuned!