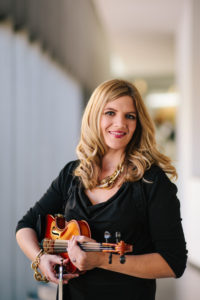 Hello everyone! Welcome to my course: Violin Studio 101. I'm so glad you're here! This course is for violinists who want to teach this wonderful instrument to others. I believe that teaching is one of the most rewarding professions, and I love working with students. I hope you enjoy it as well!
Violin Studio 101 Facebook Group: For all students of the course
I have designed the course with an international audience in mind, so, although the lessons are primarily in English, I have included translation eBooks to make it more accessible. Also, even if English isn't your primary language, many of the other course members are second language-speakers as well. As your instructor, I understand the challenges involved in speaking a second language, (I speak both French and basic Spanish myself) and will do my best to translate when possible.
Please make sure you have registered with your e-mail on my site or my WhatsApp in order to receive the Zoom links for the end-of-course live session. Also, please join the Facebook Group: Violin Studio 101-Course, where I will post the daily lessons and periodic live videos. The lessons and will release at 6:00 a.m. Universal Standard Time, but feel free to read/view them at whatever time is convenient for you. I know we are working across multiple time zones! You will have the weekends to catch up on any material you may have missed. The course concludes the last week in March with our live zoom sessions to discuss what we've covered and connect with each other.
Thanks for joining me on your violin teaching journey!
What'sApp English-speakers' group (You don't need to be a native speaker to join!)
Group Zoom discussion for Violin Studio 101: English-speakers
Monday, March 29, 2021: 10-10:30 Central Time (3-3:30 Universal Standard Time (UTC))
Check your e-mail for link. If you can't find it in your inbox, check your spam folder, or e-mail me directly. I will also send it to the What'sApp Group.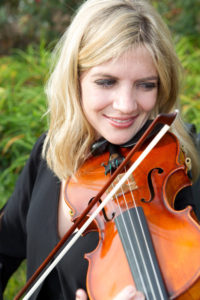 ¡Hola a todos! Bienvenidos a mi curso: Estudio de Violín 101. ¡Me alegro mucho de que estéis aquí! Este curso es para violinistas que quieren enseñar este maravilloso instrumento a otros. Creo que la enseñanza es una de las profesiones más gratificantes y me encanta trabajar con los alumnos. ¡Espero que tú también lo disfrutes!
He diseñado el curso pensando en un público internacional, así que, aunque las lecciones están principalmente en inglés, he incluido libros electrónicos de traducción para hacerlo más accesible. Además, aunque el inglés no sea tu idioma principal, muchos de los otros miembros del curso también hablan un segundo idioma. Como tu instructor, entiendo los desafíos que implica hablar un segundo idioma, (yo mismo hablo francés y español básico) y haré todo lo posible para traducir cuando sea posible.
Por favor, asegúrese de que se ha registrado con su correo electrónico en mi sitio para recibir los enlaces de Zoom para la sesión en vivo de final de curso. También, por favor, únete al grupo de Facebook: Violin Studio 101-Course, donde publicaré las lecciones diarias y los vídeos periódicos en directo. Las lecciones se publicarán a las 6:00 a.m., hora estándar universal, pero puedes leerlas o verlas a la hora que más te convenga. Sé que estamos trabajando en varias zonas horarias. Tendrás los fines de semana para ponerte al día con el material que te hayas perdido. El curso concluye la última semana de marzo con nuestras sesiones de zoom en vivo para discutir lo que hemos cubierto y conectar con los demás.
¡Gracias por acompañarme en tu viaje de enseñanza del violín!
https://www.facebook.com/groups/violinstudio101
What'sApp: grupo para hispanohablantes
What'sApp: groupe des francophones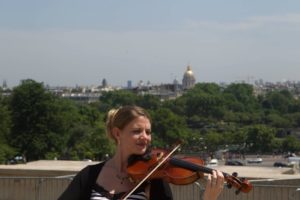 Bonjour à tous ! Bienvenue à mon cours : Studio de violon 101. Je suis si heureuse que vous soyez là ! Ce cours est destiné aux violonistes qui veulent enseigner ce merveilleux instrument à d'autres. Je crois que l'enseignement est l'une des professions les plus gratifiantes, et j'aime travailler avec les étudiants. J'espère que vous l'apprécierez aussi !
J'ai conçu ce cours en pensant à un public international, donc, bien que les leçons soient principalement en anglais, j'ai inclus des livres électroniques de traduction pour le rendre plus accessible. De plus, même si l'anglais n'est pas votre langue principale, beaucoup d'autres membres du cours sont également des locuteurs d'une seconde langue. En tant que professeur, je comprends les défis que représente le fait de parler une deuxième langue (je parle moi-même le français et l'espagnol de base) et je ferai de mon mieux pour traduire lorsque cela sera possible.
Veuillez vous assurer que vous vous êtes inscrit avec votre e-mail sur mon site afin de recevoir les liens Zoom pour la session de fin de cours en direct. Veuillez également rejoindre le groupe Facebook : Violin Studio 101-Course, où je posterai les leçons quotidiennes et les vidéos en direct périodiques. Les leçons seront diffusées à 6 heures du matin, Universal Standard Time (UTC), mais n'hésitez pas à les lire/visualiser à l'heure qui vous convient. Je sais que nous travaillons sur plusieurs fuseaux horaires ! Vous aurez les week-ends pour rattraper le matériel que vous avez manqué. Le cours se termine la dernière semaine de mars avec nos sessions de zoom en direct pour discuter de ce que nous avons discuté et se connecter les uns aux autres.
Merci de me rejoindre pour votre voyage d'enseignement du violon !