"An hour of hard practice is worth five hours of foot-dragging."
-Pancho "Segoo" Segura
Cinco de Mayo is here, and although we may not be able to eat at our favorite Mexican restaurants this year, we can still order takeout!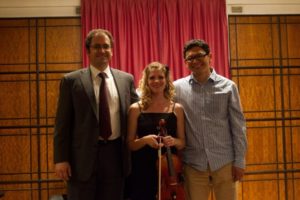 I had the privilege of collaborating with Paris-residing Mexican composer Esteban Zuñiga, recording with him and giving the premier of his excellent work for violin and piano based on Proverbs 19 in both the United States and in Paris, France. Esteban is an avid composer/filmmaker, who often draws inspiration from European electronic music, as well as Biblical Proverbs.
In addition to Esteban's work, I have enjoyed performing a fusion of Latina pop and European classical music with my family music ensemble. I played a Latin rhythm bass line while one of my sisters soloed with Mendelssohn's Violin Concerto over the top, and another filled in the harmonies. It was fascinating to see how our phenomenal arranger could bring these seemingly disparate musical traditions together in such an innovative way!
A couple of years ago, I had the privilege of teaching Spanish at my daughter's school. To celebrate the holiday, I brought a burro piñata to class, as well as an inordinate amount of chips and salsa to share with the other kids. I also delved into a bit of mariachi music for the first time in my life! Dawning a red flower in my hair, I played the famous Jarabe Tapatío (better known as the "Mexican Hat Dance") to the amusement of my students. Afterwards, they learned a little vocal rendition of it to sing around the piñata while shaking maracas and vying for candy.
I decided to delve a little further into Mexican, as well as Latina music, trying to familiarize myself with a few of the pioneers of the genre. I found Manuel Ponce's (1882-1948) Sonata for Cello and Piano to be absolutely breathtaking! He incorporated much of his native Mexican popular music into his compositions, helping to preserve his heritage.
Contemporary composer Arturo Márqez (1950) continues this tradition of using native Mexican music to inspire his classical compositions, as seen in his Danzón No. 2, for orchestra. I love the nostalgic violin solo in the middle (4'24")!
This weekend as you munch on chips and salsa, I hope you take a few minutes to check out some of these Mexican musical gems! Hispanic Music Playlist