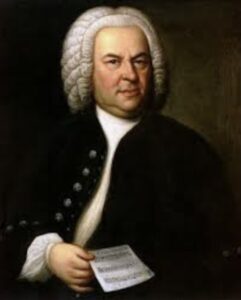 After all the excitement of launch, it has taken me a little while to reset, but it's time to return to some of our favorite composers!
Johann Sebastian Bach (1685-1750) is the most well-known composer of the Baroque period, and one of the most famous composers of all time! He played many roles throughout his life, including composer, church organist, husband, and father to twenty children!
In chapter 6 of my novel, Victoria tackles one of his most challenging pieces written for violin, "Chaconne" from his Violin Partita No. 2 in D Minor. Listen to violinist Jennifer Roig-Francoli's recent rendition.
In my short story "Bach" from the Grave, Miguel Guzman plays Bach's famous Toccata and Fugue in D Minor, the perfect song to put you in the mood for Halloween.
For more on Bach in my novel A Change in Tune, check out "Celebrate Bach's Birthday!"
I'm also excited to share the monthly features from my brand new Merch store! From the fall orange, to the villainous antagonist, you can enjoy a fun Halloween treat!
Every purchase helps support the labor, editing, cover design, and marketing costs needed for book publication. Help book 2 in the Strings of Sisterhood series come to life!