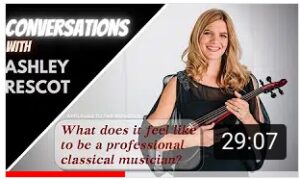 This week, I was thrilled to speak with Jerry Pollio from Applause to the Musician about the wonderful profession of being a classical musician. We delved into many of the career opportunities it affords, as well as how to keep it relevant and thriving in our 21st-century society.
I hope you'll check it out, and please share feedback with more ideas on how to make classical music accessible for listeners today!
You can read my biographical feature here!
Don't forget to check out the many other musicians featured on Applause to the Musician. I'm so grateful for organizations like theirs that support musicians and the arts!
"The mission for the Applause to the Musician project is a simple one. We support the dedication, voice, spirit, and character of musicians who have dedicated their lives to the art and craft of music by sharing their unique stories. We firmly believe talented musicians deserve to be heard and heard from. Their boundless commitment deserves our respect and support as their journey is sometimes a lonely one. We also believe artists and fans can be empowered by providing another channel of communication above and beyond the songs and compositions by getting to know the musician. The ultimate goal is to inspire a new generation of creative dedicated musicians who will continue to build sustenance for the soul and spirit through the international language of music."– Jerry and Maggie Pollio, directors of Applause to the Musician