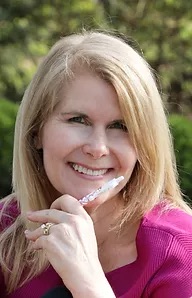 I'm an inspirational romance author, blogger, and contributor to writer's blogs and online publications. My swoony debut novel, Call to Love, delivers a good bit of hilarity, passion, and truth.
A Lone Star girl at heart, I moved with my husband Bruce in 1997 from Houston to the foothills of the Appalachian Mountains of North Carolina. We have four young adult children.
My purpose in writing is to reclaim God's intention and motivation when he created the world—to enable readers to know his heart and experience his love.
I can be lured from my writer's desk if presented with a large, unopened bag of Peanut M&Ms®, a bouquet of gardenias, or an episode of Fixer Upper. A surprise appearance by my teen idol, Donny Osmond, would also do the trick, although I'd likely pass out.
If, upon introduction, I like your first or last name, expect to see it show up in one of my novels.